8/9/2001 DELEGATION FROM OREGON VISITS OXNARD AREA (Vida, 9 de agosto, 2001, Numero 913)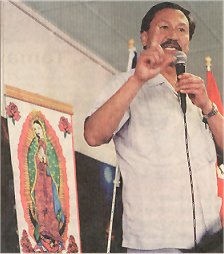 Arturo Rodriuez, President of UFW, addresses those gathered at Café on A Street, Oxnard, CA.
The mayor of Salem, Oregon and two workers from the Pictsweet Mushroom farm in Salem traveled to Ventura County last week in support for a contract for the workers of the Ventura County and Salem plants.
Mayor Mike Swaim and two workers from the Pictsweet Mushroom Farm's Oregon operation joined with United Farm Worker President Arturo Rodriguez to meet with workers at the Ventura Farm. In what was said to be in violation of the ARLA access law which specifies under what conditions union organizers can see their union members on company property, the Pictsweet management did not allow the group to meet with its union members. Arturo Rodriguez later told a group of community supporters and political representatives that he planned to come back to the Pictsweet plant. "The law is very clear in allowing us to meet with our union members," Rodriguez said.
Over one hundred people from as far away as San Diego and Arizona gathered at the "Café on A" in Oxnard to meet the delegation from Oregon. Along with the United Farm Workers' President Arturo Rodriguez, Ventura County Supervisors Steve Bennett and John Flynn, Oxnard Mayor Manuel Lopez, Ventura Mayor Sandy Smith, and Port Hueneme Councilmember Murray Rosenbluth who addressed those that gathered, showing their support for the workers who seek a union contract with Pictsweet.
With the image of the Virgin of Guadalupe and painting of UFW founder Cesar Chavez overseeing the stage, Mayor Lopez introduced the Mayor of Salem, Oregon, Mike Swaim who started by explaining that the name Salem means "city of peace," Mayor Swaim explained that, "Serving a public office is not about the perks and power. We need to serve those who need assistance."
Oregon worker Enrique Diaz came to the podium as all clapped in rhythm showing their support for the workers. Diaz was a worker at the Salem Pictsweet plant until an accident a couple of months ago that left him with one hand amputated.
The Oregon Pictsweet Mushroom employees have been seeking a union contract through the Northwest Treeplanters and Farmworkers Union since March. The Ventura County Pictsweet workers have been seeking a contract through the United Farm Workers since December 1999.
Pictsweet workers have called for a national boycott of Pictsweet Mushrooms until a contract is signed. The boycott has had great success in the market, chains through out California, Oregon, and recently Arizona have pulled the Pictsweet product from their stores. The AFL-CIO had joined the call for a boycott and largest Latino advocacy organization in the country, the League of United Latin American Citizens has called for a boycott of all Pictsweet products until a contract is signed.
Pictsweet has denied being impacted by the national boycott, but photos were displayed showing a Pictsweet truck dumping a truckload of mushrooms which could not be sold.
###
Related Topics:
March and Rally Labor Day, September 1, 2001 to support Pictsweet mushroom workers in their attempt to win a UFW contract
###